---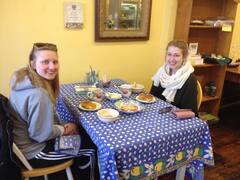 SOUPS - Each week, three or four different soups are made from fresh local ingredients. All soups are vegetarian, many are vegan, and some contain non-dairy nut based milks or cremes (e.g., almond milk, cashew creme). Eat in our take home - single or multiple servings available. Mason jars are used for all takeouts (to be returned later) or you can bring your own container. Thanks for helping reduce disposable waste! ​
---
---
SANDWICHES
Numerous combinations of sandwich items are available. The following list of regulars gives you a good place to start. Special orders gladly accepted. No MSG added, and generally avoided as much as possible. Your choice of breads (or no bread) available; but here's what Robin suggests (see descriptions below). All breads are specialty breads baked by local bakers (home-baked or bakery shop) with no preservatives.
Robin Reuben - low-salt Polish sauerkraut, Turkeyfoot Creek Creamery cheese, house-made dressing, and veggie corned beef (containing vital wheat gluten, garbanzo beans, spices) on rye bread with butter or olive oil.
Black Bean Burger - House-made from organic black beans, roasted red pepper, red onions, garlic, tabasco sauce, cayenne pepper, eggs, breadcrumbs (sometimes Gluten Free) served on tomato basil bun (from The Upper Crust) with house-made dressing.
Happy Egg Salad - Boiled chicken eggs from local, humanely raised chickens fed, hormone and antibiotic free feeds; vegan "mayo", mustard, salt and pepper, herbs (often including dill, tarragon, coriander).
Neat Burger - is a veggie burger made from an organic and gluten free mix made by Neat Foods, which contains pecans, garbanzo beans, and corn meal, mixed with eggs, water and vegetable oil. (egg replacement can be used upon request for a vegan version.) Served on bread or bun of choice. Neat mix comes in three flavors: original, Mexican, or Italian.

---

Quinoa/Kale Patty - House-made patty with quinoa (an ancient grain, high in protein and iron), steamed kale, Turkeyfoot Creek Creamery gouda cheese, garlic, eggs, spices.
Grilled Cheese - Turkeyfoot Creek Creamery cheese - (plain curds, onion dill curds, tomato pesto curds, and chevre cheese if desired on choice of bread. Additional items may be added upon request.
Fried Egg - Happy egg fried to order, on choice of gourmet sandwich bread, bagel, or wrap. Soft cheese or melted cheese curds optional.
Chickpea salad - hot (panini style) or cold on choice of bread. Chickpea salads vary with seasons - feel free to ask for a taste first!
​
Grilled veggie wrap or hoagie - colorful, seasonal veggies grilled in olive oil and often infused vinegar, herbs; served on grilled flatbread, hoagie bun, or without bread. Optional cheese of your choice.

Veggie bacon, lettuce & tomato - choose your favorite bread to compliment Morningstar Farms veggie bacon (not vegan), locally grown tomatoes, and organic lettuce.



---
---
SALADS - at Seasons' Eatings are, of course, seasonal. Green leafy salads may not be available during certain times of the year, for example, and a fresh beet salad will only be available "while supplies last." Examples below.
---
BREAKFAST OPTIONS - include a wide array of local products. Whether you are in the mood for eggs, french toast, bagels, hot cereal, toast and jam, or even veggie bacon and sausage, or cinnamon rolls, Seasons' Eatings can make you a happy camper.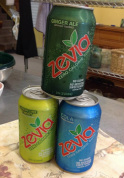 BEVERAGES
Zevia soda is a wonderful "pop" sweetened with natural stevia sugar. Seasons' Eatings is pleased to offer a refreshing drink that doesn't put nasty chemicals like aspartame into your body. No coloring, no sodium, no sugar.
Lemonade - made in-house with real lemon juice and stevia sugar
Iced and Hot tea - choose from Pappy's Teas made in Columbus Grove, or a selection of tea bags for hot tea.
Coffee - regular and decaf
Bio-Coffee - a non-acid, caffeine-free healthy coffee-like drink which contains, wheatgrass, chicory, and decaffeinated Columbian coffee and other natural, non-dairy ingredients.
Filtered water - from in-house fountain (no plastic bottles)
Kombucha Tea - made by Divine Living (more product information available).
Purity Superjuice drinks - several fruit and vegetable flavor combinations sure to delight.
Boylan sodas - good old fashioned rootbeer, orange, strawberry/cherry, creme soda, gingerale, and seasonsal flavors



---
DESSERTS & SNACKS -
---
---